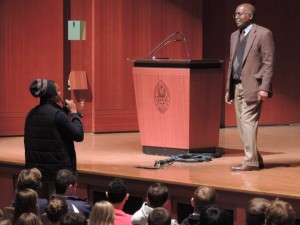 Career Day has become a significant annual event at St. Mark's School. The objective of this day is to provide St. Mark's students with a dynamic and tangible experience that facilitates a connection between their academic pursuits and potential professional endeavors in the future. Additionally, we hope that Career Day will provide a platform to develop more meaningful and personal connections between our students, alumni, parents and friends.  Career Day is one way that The Center encourages students to explore their interests and passions as an extension of their academic program and in the process better understand themselves, their community, and the world.
 Our 5th and 6th formers travel to NYC and the Greater Boston area.
Students who participate in the job shadow experience gain first-hand knowledge about being a professional in a variety of industries such as, Consulting, Finance, Business Management, Architecture, Healthcare, Public Relations, and Engineering.
Our 3rd and 4th form students remain on campus for Career Day.
Student who remain on campus have an opportunity to learn about different careers and job skills such as effective resume writing, appropriate use of social media, and interviewing techniques from traditional and non-traditional career professionals.
The success of our program depends on alumni and parent volunteers who host students off campus in their places of work or participate on career panels for students on campus.
Be part of this great St. Mark's event! Fill out our volunteer form today!
Many of our host and presenters offer Internships for our students. If you cannot make it to Career day but would like to be a mentor or offer an internship Please contact John Camp. 
Please contact John Camp or Megan Hyland if you have questions or want additional information about serving as a Career Day volunteer.