Due to existing scheduling commitments in Choir, Service Trips, and Robotics during the St. Mark's Saturdays Pilot Program, we are offering three courses specially designed for the Pilot to support these programs.  Students who will be involved in the off-campus work conducted by the programs during February and March should sign up for these courses.  Moving forward, it is worth noting that special program offerings of this kind will not be a part of the full roll-out of St. Mark's Saturdays in 2015-2016.
The History, People and Culture of Barbados
This course will run only on the first two Saturdays, and should be taken by all Choir tour members who depart for the Barbados on the third Saturday.   This offering is designed to support our key Global Citizenship outcome of undertaking meaningful cultural contexting work prior to immersive travel experiences.
Students will work together to research and present projects on the main periods of Barbadian history, geography/demographics and economy. Focus is on the shift from a slavery-based colonial entity to a free and independent nation Students will also be introduced to the rich mix of music in Barbados. Students will have a personal introduction to the customs and culture, and learn basic phrases in the language (English dialects and patois) from an invited Barbadian guest.
Monte Cristi: Culture and Context
This course should be taken by all students who will be going on the service trip to Monte Cristi, Dominican Republic with Outreach 360.  This offering is designed to support our key Global Citizenship outcome of undertaking meaningful cultural contexting work prior to immersive travel experiences.
In addition to reviewing our objectives and mission, students will be presented with strategies that they can use when they are working with the Dominican children in the classroom. The cultural content of this course (food, music, history, customs, climate) will help students contextualize the work that they will do upon arrival. Students will also learn the basic steps of bachata and merengue and listen to Dominican music. We will also have the opportunity to talk about gastronomy and sample some Dominican dishes. We will also set up helpful mechanisms, like journal writing, to help students process, reflect, and get the most out of their experience.
FIRST Robotics Team 3566
This course is offered for members of the Robotics Team who will be competing in FIRST events on February 28 and March 7.
For the first two weekends of the Saturday Program Pilot, Team 3566 will be competing at New England FIRST district events. We will spend the remaining Saturday working together on competition strategy and tactics as a team, moving beyond our current baseline engineering approach to stronger competition.

Students will enroll in one of the offerings below for the duration of the Pilot.  All offerings are open to students of any form.  St. Mark's Saturdays courses offer students the opportunity to do hands-on work with authentic performance challenges, with an eye to developing competencies common to a range of academic disciplines.  Activities in these courses are geared to the development of products that allow students to sharpen their skills of critical thinking, creativity, and synthesis.
Registration for courses will open the week of January 12, 2015
Courses will meet on February 28, March 7 and March 14.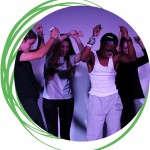 What is adolescence? Why is the study of adolescence important? These are two of the many questions which inspire our search for understanding of this particular life stage. This course is a basic introduction to the field of psychology, with a focus on adolescence. The course examines the ways in which adolescence has been defined and analyzes the way that adolescence is currently portrayed. The course exposes students to psychological, biological, sociocultural, and ethical perspectives regarding adolescent development and provides a forum for discussion of topics such as the nature vs. nurture debate, identity development, and media portrayals of adolescence. Evaluation is based on class participation, homework assignments, and a brief critical reflection paper.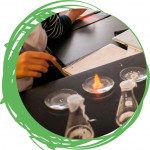 Good cooking relies heavily on scientific phenomena and more specifically, there is a direct link between cooking and chemistry.   From the biotechnological use of yeast in bread, yogurt, and root beer making to the need for exact measurements in baking. Relying  on a variety of sources (America's Test Kitchen, Good Eats, cooking- science projects) we will focus on a hands-on course where our students will be working in the kitchen to explore how understanding the science of cooking will allow each student to be a more informed consumer of food and (hopefully) a more aware cook.  Every Saturday we will focus on one of three basic food molecules, carbohydrates (sugar), fats and protein.  We will involve a cooking "project" based on each of those themes. Students will prepare for class by watching a food related documentary that focuses on the particular aspect of the food industry.  In class we will explore these social issues as well as a particular aspect of the science behind that molecule.   The second part of the class will be a cooking project related to that molecule followed by a discussion of what went right/wrong. In some ways, the food product will be an assessment. Ultimately, we would love to have the students either video or live do a cooking show that explains the science behind a recipe of their choice.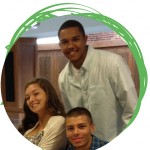 How can the Native Americans in "Pocahontas" or the hyenas in "The Lion King" lead to a discussion on race and cultural identity? Is Ursula from "The Little Mermaid" made "the bad guy" because she does not conform to traditional gender roles? Why are the Huns in "Mulan" all drawn in grey and without any soft angles?  This course will examine in detail source texts for two popular Disney films as well as scholarly articles analyzing filmmaker choices.  Students will engage with movie clips and will begin analyzing culturally accepted children's films.  Why did the filmmakers change characters, situations and portrayals? Why did Disney make these intentional choices, and how does that impact cultural notions and accepted stereotypes?  Students will connect analysis and comparison of different texts to contemporary social topics such as race, culture, gender, sexual orientation, xenophobia, socioeconomic status, and more.  The course will culminate in an oral presentation comparing a film and its source text, connecting that analysis to a contemporary social issue.  There will be two written reflections.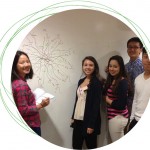 Standard economic theory states that individuals have unlimited wants, but are forced to make choices because of the problem of scarce resources (money, time, etc.). When making these choices, the discipline of economics tells us that individuals act rationally, weighing the cost and benefit of each option and demonstrating a long-term thinking approach. However, in recent years, economists and psychologists alike have challenged this theory of rational, unemotional decision-making. Made popular through the work of Malcolm Gladwell, along with Stephen Dubner and Stephen Levitt (co-authors of Freaknomics), behavioral economics seeks to further investigate the intersection between economics and psychology and its impact on a wide range of public policy issues.  The course will begin with a field trip to Wal-Mart and a local food establishment to examine the topic of pricing strategies and consumer decision-making.  Next, students will explore a current topic in behavioral economics and discuss the basic principles of designing a behavioral economics experiment.  Finally, students will participate in the "Nudge Challenge" in which they will be asked to identify an issue facing St. Mark's or the broader community and design an experiment to test a possible way to alter individual behavior.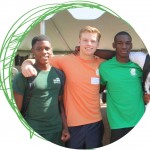 What would happen if you put the wrong gas in your car? Or if you sat around all day playing video games? You probably would not get very far in your car and you would likely have a hard time doing any type of meaningful exercise . In this course, students will have the opportunity to learn about healthy food choices, fueling for athletic performance and how to eat and exercise when on the road. Additionally, former college athletes will teach them how to focus and train for attainable goals. By tracking food choices and sleep hours, students will develop a comprehensive overview of their current lifestyle and work in collaborative teams to reflect on their personal habits and make changes and improvements. Students will also learn about the importance of mental well-being and practice both meditation and yoga. The culminating project with consist of students planning and implementing an athletic training program that is consistent with their individual goals. Using Nancy Clark's Sports Nutrition Guidebook as the foundation for our learning, students will leave this course feeling healthier, happier, and stronger.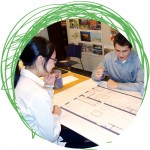 This course aims to present students with a biological, ethical and legal understanding of three topics: embryonic selection, euthanasia, and abortion. Class time will be spent learning the biological underpinnings of each topic followed by class discussion and reflection. Students will explore these topics through film, literature, legislative readings and hands-on experimentation. Between classes students may be asked to do some independent research in preparation for a formal in-class debate.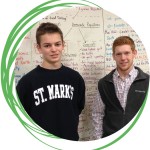 Almost all debates involve the use of numbers for evidence. In this course you will learn how to critically evaluate numerical claims, and use numerical evidence to support your own arguments. You will examine the uses of numbers in a wide variety of debates on issues ranging from the Affordable Care Act to Global warming, looking at a variety of text, audio and video sources. You will have some freedom to choose from a selection of themes. While there will be a limited amount of written work using google docs, and Canvas discussions, this course will focus on developing each your ability to critique numerical arguments orally. We'll explore what constitutes an excellent presentation and provide opportunities for you to create compelling presentations of your arguments.
You will prepare for each session by completing some focused online activities, some individual, some in groups. We'll use an online tool called MoveNote to practice making effective oral responses to arguments.  In-session activities will progress from working collaboratively to analyze arguments and wordsmith critiques to presenting arguments, either individually or in teams. The final assessment activity will be a series of seminar debates, in which you will participate both as a debater addressing numerical content from a single assigned topic, and as an audience member who can question other teams when they present their arguments.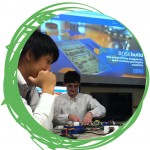 In DIY Electronics, St. Mark's is venturing out ­­beyond our community — an exciting prospect with the goal of, over time, establishing St. Mark's school as a local hub for technology, robotics and (MAKER/DIY/Electronics) type projects. We would like to invite local elementary and middle school students to come to campus on Saturday mornings to learn about electronics and to make a tech project that they could take home. In this course:
St. Mark's teachers are the instructors (Learning Coaches);
St. Mark's students are the mentors­: teacher assistants who work with teams of students from outside St. Marks (STM Student Mentors);
The invited local students are younger children who want to learn about technology and make something fun.  Currently the plan is to invite students from Seven Hills Charter School in Worcester, MA as an extension of the existing work taking place through the SMMA (St. Mark's Mentorship Association).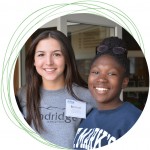 Do you see a need for change in your local or global community and want to do something about it? The Entrepreneurship Lab provides the opportunity for you to develop the skills you'll need to develop your big hairy audacious idea for social change. This dynamic and interactive course will begin with an honest assessment of our individual strengths, skills and passions. We will learn how to define and strengthen entrepreneurial competencies including grit, leadership, optimism, resilience, creativity & innovation, empathy, emotional intelligence, and resourcefulness. We'll explore the stories of visionaries and innovators who have served as change agents. Once you feel grounded in the tenets of social entrepreneurship you will have the opportunity to critically assess social problems and identify the change you want to make in your local or global community. We will work through the process of design thinking to refine our ideas for social change. The culminating project for the course will be the development and evaluation of a business model and plan for a new social venture.

Students in this course will learn about food insecurity, and the magnitude of the problem in our local area, our state, our country and our world. They will see some ways the issue is being addressed, and will have the opportunity to do hands on work to address the problem at organizations like the Worcester County Food Bank and the Community Harvest Project Farm.  The hands on work and exposure will be enhanced by the Entrepreneurial Leadership approach, the BUILD Process as outlined by the African Leadership Academy.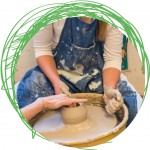 Daily and ubiquitously through its usage of images, slogans, and messages, mass media informs our choices, sometimes subtly and sometimes quite overtly.  Rather than yielding your mind to manipulation and subjection, join us to seize awareness through gender lenses of the history of advertising in United States' society.  You'll learn just what "The Institution" is and how it has operated, you'll get off campus to apply your new knowledge and observe current uses of gender in advertising, and you'll imagine a 2030 society in which you are a player in the marketing world by developing your own advertising campaign based on the trends of history through today.  They're your mind, thoughts, and choices:  come get them back.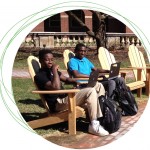 Germany was the major force behind the world changing events of the Twentieth Century: World War I, World War II, and the end of the Cold War. What can German  films made at these times tell us about German culture and history? What can an  Expressionist silent film tell us about the doomed Weimar Republic? What can Leni Riefenstahl's brilliant propaganda films tell us about Hitler's rise to power? What can a spy film tell us about conditions in East Germany, conditions that helped lead to the fall of the Berlin Wall and the end of the Cold War?  How can we be critical and informed consumers of film as an art form and as social and historical commentary? In this course we will research historical events, view three films and discuss the films from different perspectives.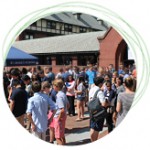 In this course students will have the opportunity to take a deep dive into a research topic of their choice. Topics might range from a study of the old burying ground in Southborough to an examination of the ecology of the West Campus ponds, to an in depth examination of a particular text or scientific compound. The students' imaginations, time and the sky are the only limiting factors!
Expectations for the class will be that students use a variety of sources such as primary and secondary sources as well as personally interviewing someone about their research topic. Field trips will  depend on the nature of the research projects proposed, but might include a trip to the Boston Museum of Fine Arts, the Peabody Museum of Ethnography at Harvard University or the Southborough Historical Society. The course will be tailored around the research projects of the students. The final product for the course will be a PPT presentation on the findings of their research.
Students will  be required to serve as peer reviewers during the research project as a way to help students identify areas of strength or weakness in their projects. The ability to explain a project to someone unfamiliar with the research topic will be integral to the evaluation of the final presentations.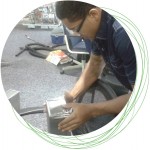 When you think of archaeology, you might think of Indiana Jones, Lara Croft, or The Mummy. But what is archaeology really about?  Archaeological evidence can tell us as much about the past as primary textual sources; indeed, material culture can often reveal much that literary evidence cannot. The course will begin with an introduction to archaeological theory and method, and a look at some of the most notable archaeological discoveries of the past hundred years. While we won't be raiding any tombs, the class will undertake some archaeological "fieldwork" of its own. Two exercises will introduce students to archaeological data at opposite ends of the spectrum: the first, a traditional trash-can archaeology exercise, will focus on the ordinary artifacts of daily life. The second, which will take us to the MFA in Boston, will look at the rare, dazzling sort of objects more usually preserved in prestigious museums. In the first exercise, groups of students will study assemblages of trash (safely) collected in different parts of the school, creating "site" reports that will include artifact descriptions, sketches, analysis, and hypotheses. In the second, each student will select a single object at the MFA. Using both observation and research, the student will present on the object; its context and provenance; comparable objects; and what the object tells us in relation to any written sources.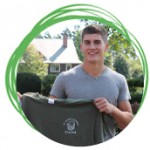 Most of us are able to identify leaders we admire, but why?  What makes those individuals worthy of our admiration?  Is there such a thing as a "born leader", or is leadership a skill that can be developed?  We'll explore the fundamental characteristics of good leadership and learn from a variety of leaders, mostly St. Markers, who are leaders in business, public service, sports, religion and education.  There are many different models of leadership and you will learn to identify the style that is authentic, comfortable and effective for you.  WARNING: DO NOT SIGN UP FOR THIS COURSE if you want to be a spectator.   Plan to do a lot of discussing, thinking and writing as we delve into the complex dynamics of leadership.  Your capstone project will be to deliver a speech, write your monitor essay or lead an activity that demonstrates your expanded understanding of leadership.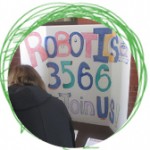 This course will explore the role of myths in human culture and society.Students will first explore different types of myths and will consider the way they inform and influence cultural and societal norms and belief  systems. Students will then research one myth closely and will be asked to compare similar myths from several different cultures and historical periods and to reflect on what these differences can tell us about each culture and time. Finally, students will be asked to analyze the myths that have formed and shaped their own lives and will make up a myth of their own to present to the class.

Are you a budding scientist, engineer, or TV producer?  If so, then this course is for you!  Based on the popular Discovery Channel show, Myth Busters, this course puts students in the driver's seat to prove or debunk urban legends, popular myths, or movie special effects.  From determining the myths to bust to designing and refining experiments to presenting results, students will work collaboratively and be active in the leadership of the course.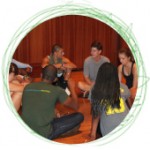 This course is to meant increase students' understanding of science communication and its great value in our society. In our modern society, unfortunately, science can often be perceived as a far off idea that is too difficult to understand. One of the largest barriers to society's understanding of science is a less than ideal/symbiotic relationship between the general public and scientists. Music has the ability to bridge that gap by providing the necessary scientific understanding in an interesting engaging and even fun way. Music can also be used as a tool that aids in memory retention and information recall. Many studies have been done on the musical connections in the brain and how they're able to aid in information retention.
Students will be able to hone their communication skills, creativity, and scientific understanding by creating lyrics and songs that communicate scientific topics and concepts. These can include any scientific ideas from any area such as chemistry, biology, physics, ecology, astronomy, or even math. Songs can be ballads, or raps, or folk, or whatever suits the students desires. Lessons will include lyric writing, music production, and appropriate scientific research. At the end of the course, students will have developed, at the least, a short song able to communicate a scientific idea in a creative way.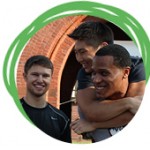 Stories surround us, and shape the collective imagination of our campus, but how much do we really know about the experiences of our fellow St. Markers?  To what extent are the places we inhabit together shaping our sense of community?  In the SM Digital Storytelling Project, St. Markers will create a digital map of experience that collects the narratives of students and faculty, and build a website that archives these stories.  Using QR codes, students will link these stories to physical locations on campus, allowing the community to interact with spaces as a kind of shared text, and to discover the diverse layers of narrative that create a common memory. At the core of the course is student work in collaborative teams to develop an editorial policy, and to design and publicize the project to the community.  As a part of the design process, students will examine and present on similar digital storytelling and community memory projects, including Middlebury College's Murmur; National Public Radio's StoryCorps; All Together Now: Civil and Human Rights; and Aaron Huey's Pine Ridge Community Storytelling Project.  The class will analyze these projects to identify traits of effective storytelling, design and digital communication, and, in turn, apply these understandings as we collaboratively generate the rubric by which we will evaluate our own process and finished product.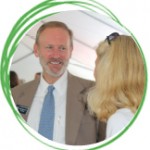 This course is designed to instruct students in the art of public speaking. Through three class sessions, students will develop an understanding of effective public speaking form, as well as hone techniques to improve their emotional delivery and appeal. Students will work with both original and published speeches, as well as listen to and watch some of the best speakers in history. At the end of the three classes, students will not only be polished, confident speakers, but they will be able to use their speaking skills to help strengthen their logical and emotional appeals, making their speeches, presentations, interviews, arguments, and all school announcements more engaging and effective.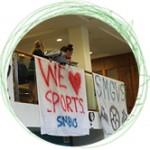 This course will be centered around folktales from cultures worldwide.  For this pilot we will explore stories and art from the Pacific Northwest/British Columbia and West Africa.  Questions we will examine include: Why do folk tales exist?  What historical, cultural and economic factors influence their evolution in different regions?  How does illustration broaden their narrative?  We will read and discuss stories in the context of their cultures of origin and also study how they are illustrated.  We'll focus on oral traditions, read stories aloud,  listen to recordings, and  practice storytelling to understand and experience  the importance of oral tradition.  Additionally, we will investigate the transition from oral to printed narrative with a focus on accompanying illustrations.  Our study of art from each region will include the opportunity to practice in different media.  You will engage with the material as you practice storytelling and art.  By the end of our third meeting, you will have the chance to either to illustrate or to prepare an oral rendition of a story of your choosing.