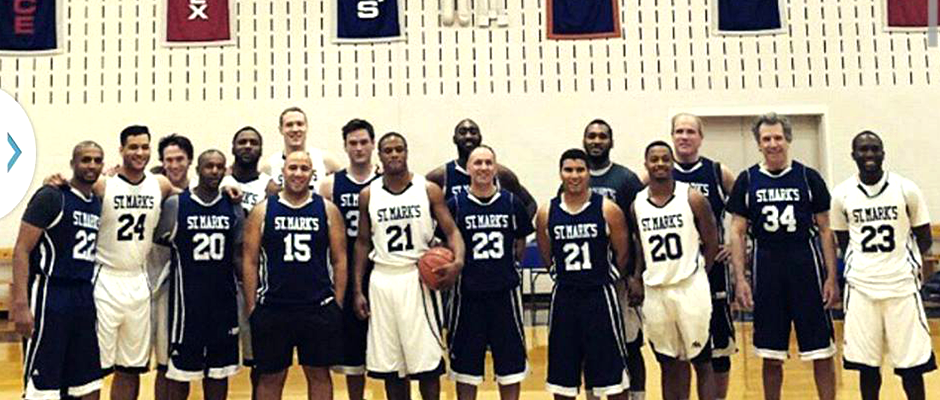 A number of former St. Mark's basketball players returned to campus in January for a new event this year: an Alumni Basketball game. Divided into two squads, the Blue and White team clashed on the court in the Michel Faculty Athletic Center.
Current St. Mark's boys'varsity basketball head coach and Assistant Director of College Counseling Brian Burbank '07 captained the Blue team, while current SM Assistant Dean of Students and Director of Student Life Sal Abdo '07 captained the White team. Other alumni participating on or responding to the day included David Ellis '05, Nate Lubick '10, Victor Resto '09, Dave Johnson '09, Alex Fulling '14, Cedric Almonacy '14, John Harnes '72, Joshua Sobol '95, Paul Rowe '05, David Hendrie '06, Stephen Abreu '02, Kamarra Freeman '09, Bolaji Ekhator '14, Jon Dorfman '72, and Joseph Lewis '97, Rachael Ogundiran '07, Russell Braithwaite '09, Eli Lubick '12, Jared Jammal '07, Mo Abdo '09, Elizabeth Egan '05, and Tara Burke '05, along with past parents Michele Burbank and Dan and Barbara Hendrie.
The crowd thrilled to some great passing, fine shooting, and impressive slam dunking. Lunch followed for all.
Coach Burbank was pleased with the day's success. "As an alumnus," he said, "when I got the head coaching job it was a high priority for me to get an annual alumni game going. SM basketball alumni have such a strong sense of pride for the program and reflect fondly upon their time as players. I wanted our current players to see that; to witness that bond alums have with each other and with the program. It is important that our current players understand their place within the history of our program."
St. Mark's has a rich basketball history. In 1951 and 1954 the Lions were Private School League Champions. St. Mark's also won ISL championships in 1972, 1999, 2006, 2008, 2009, 2011, and 2012, and were New England champions in 1972, 1973, 1999, 2006, 2008, 2009, and 2012.